Bahanur's 20 years old
09 March Wednesday 2011 17:55:58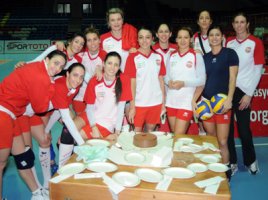 Bahanur ┼×ahin, beloved player of Vak─▒fbank G├╝ne┼č Sigorta T├╝rk Telekom, celebrated his 20th birthday with her teammates.
Today, after the workout at Burhan Felek Voleybol Hall, her birthday cake was cut. It was clearly observed that Bahanur ┼×ahin, who celebrated her 20th birthday with her friends, was so happy.
As the crew of Voleybolunsesi; we wish Bahanur to have a life; long, healty and full of accomplishments.