27 August Wednesday 2008 15:38:58
They started to play volleyball 2 years interval. One served to volleyball 19 years, the other 17. Both quit volleyball and live a different life.
This part's guest's Kartaltepe Family. They told about their actual life out of volleyball and volleyball lives.
Aylin Kartaltepe started to play volleyball in 1985 Samsun DSI by an encouragement of a neighbour and had played as a setter for 19 years. She left volleyball for longing of a child.
Her husband Metehan had played 17 years his volleyball life which started in 1983 SGK by his father's insistence.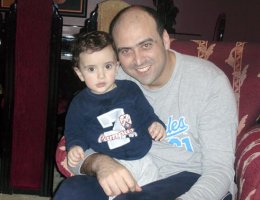 Their concurrence was in Eczac─▒ba┼č─▒. Metehan had played for SSK, Ar├želik, Eczac─▒ba┼č─▒, Fenerbah├že while his wife Aylin had been playing for Eczac─▒ba┼č─▒, Ye┼čilyurt, G├╝ne┼č Sigorta and Enka.
Aylin answers the reason she quit volleyball as "having a baby" while Metehan tolds his reason as to make another carreer except sport. Both confess they really miss volleyball.
Aylin answers our question which about missing volleyball like this:"to forget the nice and active days is impossible. Of course I miss volleyball". Metehan reproaches a little bit:"Of course I miss my volleyball life. But however, I do not think there are nice and sincere days now, like there were existedin the past.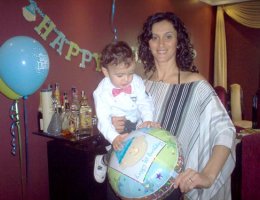 After leaving volleyball, she had worked as a trainer for 2 years, she spends all the time with her son Kerem now.
Metehan works as a manager for a package company after he quit volleyball. Apart from this, he spends his time with his son like Aylin.
A life without volleyball should be so hard after touching volleyball once. Kartaltepe couple miss to be in volleyball too.
We asked them if they want to be in volleyball again. Their response was like this. Aylin:"I wish too much but I do not know how and where". Metehan:"Of course I do. But our circle is always being seperated because of causeless conflicts and misunderstandings. I prefer to stay away from this medium".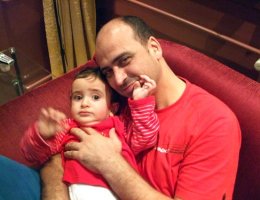 We finally asked them for their message to volleyball family. Aylin:"I wish everybody worked to make the circle more successful".
Metehan:"I wish we found the ways to serve for volleyball under the same roof by having the drop on conflicts".
Aylin-Metehan: Thank you for the kind interest and wish you luck in your broadcasting life.
KARTALTEPE COUPLE'S CARREER
Aylin Kartaltepe had won more than 10 Turkey Championship in different categories, World High School Championship, 3rd and 4th in European Cups.
Metehan Kartaltepe had won Turkey Championships and 2nd grades in different categories.