11 April Monday 2011 13:02:02
President Periklis BAKOMIDOS, Secretary General, Ozkan MUTLUGIL the technical commission members, Slobodan MILOSEVIC (SRB), Stanislav NIKOLOV (BUL), Viorel MANOLE (ROU), Nil├╝fer SHIMONSKY (TUR), Simon GINES (MKD) Beach Volleyball Commission Members, Tosho STOYANOV (BUL), Erkal TAS (TUR), George GAGLIS (GRE), Ivan VLADISAVLIEVIC (SRB) were present during the meeting.
Apart from the members, Secretary General of FYR of Macedonia Federation, Zoran KARANOVIC, and Board of Administration Members Arthur ROMASCAN and Stratan ALEXANDREU were the guests of the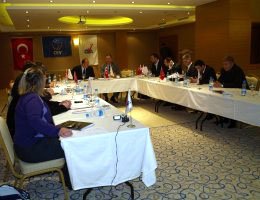 meeting. Evaluation of 2010 season made and the DOLs of 2011 BVA Championships completed. Also 2011 Beach Volleyball events and regulations were discussed during the technical commission meeting. Forms used in BVA indoor and beach volleyball, delegates to be assigned in the championships, standardization of accommodation and catering facilities during events, formulas for giving the opportunity to weak teams to play more matches in the championships, economic conditions of the member Federations were some of the topics of the agenda. The age limitations in the championships are, January 1, 1993 and over in Youth Boys, January 1, 1994 and over in Youth Girls, January 1, 1991 and over in Junior Men and January 1, 1992 in Junior Women.
2011 BVA Championships:
Youth Boys : Istanbul, Turkey (9 Countries)
Group A Turkey-Romania-Albania
Group B Bulgaria-Montenegro-Moldova
Group C Greece-Serbia-Bosnia&Herzegovina
Youth Girls : Tiran & Durres, Albania (7 Countries)
Group A Serbia-Romania-Montenegro-Albania
Group B Turkey-Bulgaria-Greece
Junior Men : FYR of Macedonia (9 Countries)
Group A Serbia-Bulgaria-Romania
Group B Greece-FYR of Macedonia-Montenegro
Group C Turkey-Albania-Moldova
Junior Women : Serbia (9 Countries)
Group A Greece-Montenegro-Albania
Group B Serbia-Bosna Hersek-FYR of Macedonia
Group C Turkey-Bulgaria-Romania