Interest for Fenerbahce Acibadem
17 March Thursday 2011 19:01:23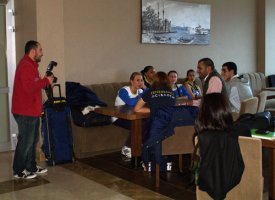 Fenerbahce Acibadem, the organizer team of final four tournament draws attention right before the struggle.
Yellow dark blue players have been chased by the journalists approaching to Vakifbank Gunes Sigorta challenge.
Players met the journalists from numerous newspapers at the hotel. Interviews were held and photographs were taken in the lobby of Volley Hotel under the supervision of Fenerbahce Acibadem management.