20 April Saturday 2019 14:58:21
Fenerbah├že Men's team's prolific spiker Salvador Hidalgo Oliva honestly answered our questions right before Efeler League final clash.
Enjoy our editor Kayhan K├Âsem's special interview with Fenerbahce star Hidalgo...
-Let's start with the second spell in Turkey. When did Fenerbah├že offer you? How did you decide to come to Turkey?
I got the offer on December 15 or 16th. We accepted it as fast as possible. I had some diffent issues with my old team in Poland. The president did not want me to go until he finds a player same calibre with me. But today in the market, not so many players like me. So at the end, we had to move on with the FIVB. It took more than 1 month while I was expecting to arrive in the middle of December. I could join the team on January 21st.
-If you compare the current level of Turkish volleyball with your first spell (7 years ago) what kind of difference do you observe?
I am the difference. I am more prepared than seven years ago. Even though we played final in the cup with Galatasaray, we lost to Fenerbah├že. We also lost the semi final against Fenerbah├že in one game, not best of 3. At that time, it was very difficult to play against Miljkovic and Marshall, this is not the same to play against today's players. When I came here for the first time, there were talented Turkish players but many of them retired now. Cagatay Durmaz of Maliye Piyango really impressed me so much this season. There are also young players who I dont know the names so talented, many of them can play for the national team, mostly in Arkas. The important thing is all of them around 24-25 years old, that is so useful for the national team in the future. I can say that number of high level Turkish players increased. They are higher, bigger and stronger.
-We know you were an attacking player in your first spell in Turkey with Galatasaray. You got much more responsibility on reception in Fenerbah├že which we have never seen before. Is this your own decision or coach's demand?
Actually this is happening in each rally itself. When I first came to Fenerbah├že, opponents served on me. ─░n the first 4 matches, I got %50-60 reception, coach was saying it would change, so they started to change this. Because when I got the perfect reception, we were attacking easily against 1 block. Sometimes it is demand by the coach, by the other players but it is paid off so far.
-When you came here, Fenerbahce was struggling for play-off place. You arrived, head coach was changed and team rised up. You won the cup and finished the regular season on 5th place. You eliminated opponents as you were not the favorites till the final. Now you look as the favorite for the first time. Does it make any nerve on the players?
I think we are not the favorite in final series. As you said, we finished 5th and we were around 8th whole season. You can not see such situation in anywhere in the world including NBA, NHL or Superball, a team beat many rivals in last two months to climb up to 5th. If you tell someone a team from 8th or 5th would crush number 1st,2nd and 3rd of the league in three days, nobody would believe. I am lucky that I have played many different places through the world and I got the experience. I believe we are not the favorite bu they (Arkas) should be afraid because we play great. No matter we win or lose we will not be dissapointed. We did our job so far. Now we will be living for this final.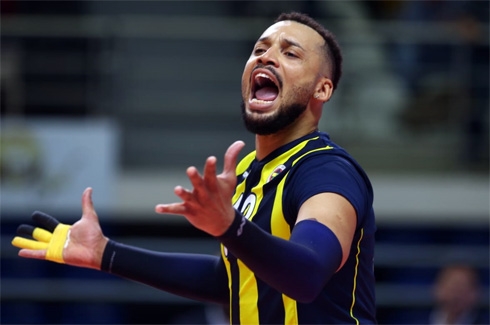 -What should you make of to win the final series against Arkas?
Practice, practice, practice
-I mean the tactical.
Practice, practice, practice
-What kind of difference between Turkish and foreign trainers? Are training systems same in Turkey and the other countries?
I can not say much about Turkish coaches. I just worked with I┼č─▒k Menk├╝er. He's a great person. He was like a second father for me. Everywhere, teams have its own mentality, so coach's applications are different in terms of matches, players and the other factors. For sure every country is special training systems. Just like players in a team has different duties, teams also have different type of systems.
-Who is the best player for you? Who is the best Cuban and Turkish player?
Man, I can not answer that. There are so many good players and we can discuss about it all night. The same answer for the Cuban players. Now Wifredo Leon is the best but before him, Osmany Juantorena was the best. Many Cuban players play in different leagues and make the difference. However it is not possible to say which one is the best. About Turkish players, Ula┼č K─▒yak is the best for me. He is like Isiah Thomas in NBA. He is not tall but he has played for the best teams in Turkey. He makes the difference. He is not only talented, he is 38 but works out at the same spot like me!
-Who are the volleyball players you frequently meet as well as the other athletes in your social life?
I mostly meet the people from volleyball circle cause I am in. When I go holidays, I meet the players from Germany national team. From Cuban players, I meet Juantorena, Leal when he is available and mostly Simon, of course I gotta say Marshall like my brother. Besides this, I follow tenis players like Djokovic and Federer, NBA and NFL. I use social media to communicate people.
What do you do in your regular life in Turkey?
I love Turkey so much. I like history and we sometimes go to Grand Bazaar and Blue Mosque with my fiance. We usually go to ─░stinye Park with the team for restaurants. Walking around Fenerbah├že and Kalam─▒┼č is also nice. My fiance loves dancing and we go dancing. I enjoy the time I have been in Turkey and I hope to stay longer.
-A lot of Cuban players leave Cuba and play for the other countries. So that, Cuba can't rise up on World ranking. What's the reason for you? Will anyone try to change this?
I do not want to answer this question.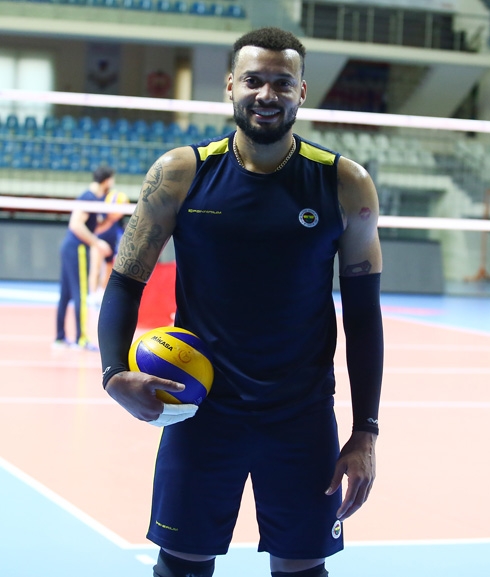 -What do you think about Fenerbah├že supporters? Attendance in women's games is much more higher than yours. Does it affect men's team negatively?what do you want to say them right before the final series?
People attend women's volleyball more than men's. It's very strange. Maybe the reason they played in Champons League I do not know. But we have already done a great job here. We won the cup and have a chance to get 2 titles of 2 in Turkey. I believe we deserve more respect than today's. We play the best volleyball for men right now. Just like we are lucky to play for Fenerbah├že, the fans are lucky to have us, I believe we deserve more attention. Some of them coming to hall but this is the final and if we have a full hall in 2 home games, we will be better. They are our 7th player on the court. I do not know why are not coming but we are professionals. We love and do our job. The last week, I was in basketball match and hall was sold out. It was so sad for us. Football, basketball and women's volleyball matches are full but we have only 50-60 people on the stand. It does not affect us negatively bu we deserve more.