19 November Sunday 2017 13:17:01
We came together with the prominent Ukranian National Team player of Besiktas Women's Volleyball Team, Olesia Rykhliuk. We talked about various topics about her life in volleyball. Here is our interview with her:
Let's start with a classical question. How did you start volleyball?
I was 7 years old. A coach from one of the clubs' kids teams came to my school looking for tall girls. So I was one of the tallest girls. He invited me to practice with the team and here I am after all these years.
Then how was the process that led you to play in Senior Teams?
Until I was 14, I played in various kids tournaments in Ukraine. Then I got an offer from the best club in Ukraine. Then I played there for 9 seasons. During this time, I also played for Ukrainian Junior National Team in World and European Championships.
"I never received an offer from the Russian Federation to change my nationality"
How did that feel to start playing at senior level in a club that early?
It was really very early. My team was one of the strongest in the league. They had a lot of experienced players and they helped me a lot. I even started to play in starting 6 when I was 14 while the rest of the starting 6 was 10 years older than me. It was crazy. I really appreciate the effort they put in for me because it was really a priceless experience for me.
After playing for junior National team, we didn't see you continue to play for the senior National team. And you haven't consistently been there. There has been much curiosity and speculation around the issue so we'd like to ask you if you can clarify the process.
This summer in June I played for World Championship Qualification Tournament. I was very happy to be back. But unfortunately because of my health, I couldn't participate in European Championship after agreeing with Ukranian National Team coach and Federation. I hope in the future if everything goes well and my team needs me, I will play for my national team.
There have also been lots of rumors that you would play for Russian National Team. Is that true?
No, I have never received an offer to change my nationality.
"Sanja Popovic was right. I loved Be┼čikta┼č"
At club level, after playing for a long time in Ukraine, you came to play for Perugia, which had been a strong club in Italy for a long time with a strong tradition. And the squad in the year you played there included some strong players like Fateeva and Popovic. How did you decide to transfer to Perugia?
Every player has the dream to play in big clubs. When I received an offer from Italy, I was so happy because it was Italy. Of course, I would go there. I also had the chance to learn from such experienced players. It was the best opportunity for me. But unfortunately we started to have financial problems. In the middle of the season, us all foreigners had to leave the club. But maybe there is something good in every bad thing because following that departure, I came to Be┼čikta┼č that season. Because we really had a nice relationship back then, I came back this season again.
Can you please tell us about that process of your first transfer to Be┼čikta┼č?
We had to leave the club immediately because the club was in big financial trouble so my manager told me Be┼čikta┼č had an offer for me. Like you said, we were playing with Popovic that year. Because she previously played there, I asked her about the club and she had the nicest things to say. She told me not to be afraid and just go because I would love it. And she was right.

It was not the best of times at Be┼čikta┼č that season in terms of its rank in the league. How did the season work out for you that year?
I liked my team, teammates and coach. Living and working conditions were good, too. It was my first time in Istanbul and I really loved it.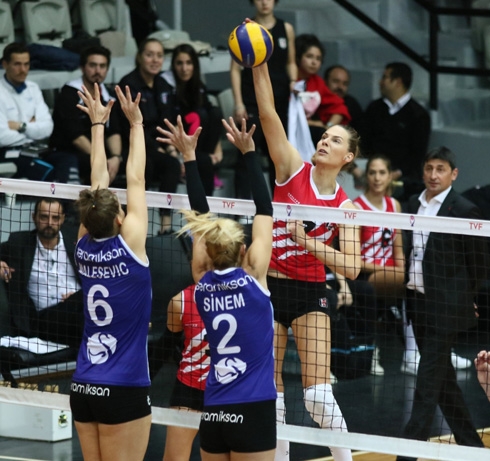 Following a short period of time in Istanbul, you move to the other side of the world, Korea.
Living in Asia is like living in another planet. Asian volleyball is totally different from how we play here. It was really tough.

You really became successful there, though with the MVP award you received.
Yes, I won MVP and Best Spiker but most important part was that we won the Korean championship. It was a great season.
"Absence of a competitive league in Switzerland was key not to win Champions League at Volero Zurich"
Then I think starts a period in your life where you will prove yourself among the volleyball elites in your position, namely, Volero Zurich. How did you make that decision? We can't talk about much of a league in Switzerland but on the contrary the club was really one of the top contenders in European Champions League.
Back before I went to Italy, before joining Perugia, I joined one of the training camps in Volero Zurich that summer. Volero and Perugia were partners with agreements to work together back then. So I knew everything about Zurich before I went there because I basically I spent a summer there before. It was just a new coach and new players. It was an interesting experience because it would be my first time in Champions League. I was motivated to compete against the best players and prove myself to whole European volleyball.
Throughout the years at Champions League Volero was always at least in the top 6 or 8 or sometimes in Final 4 but somehow always short of the big trophy. What do you think was the reason?
I think absence of a competitive league in Switzerland has made and is still making all the difference.
Most of the times Turkish teams, and mostly Vakifbank and Eczacibasi VitrA, were your competitors in Champions League creating obstacles for your team to move forward. Because some of those losses were back to back, did it create any tension?
I think it did not create any tension but obviously it created a huge disappointment every year, that's for sure. Like I said, we didn't have a competitive league in Switzerland like in other countries so it was also a factor. We always had to play against the strongest opponent of the entire Champions League in Playoffs 6 or 12, who later went ahead to win the entire thing. In my first season, it was Dinamo Kazan from Russia. They beat us in Playoffs 6 and won Champions League and World Club Championship. Next season it was Eczac─▒ba┼č─▒ and later they won both trophies, too. Third season it was Vak─▒fbank in Playoffs 6. They didn't win later on but they were one of the favorites for Final 4. Last season it was Vak─▒fbank and later they won Champions League and World Clubs too.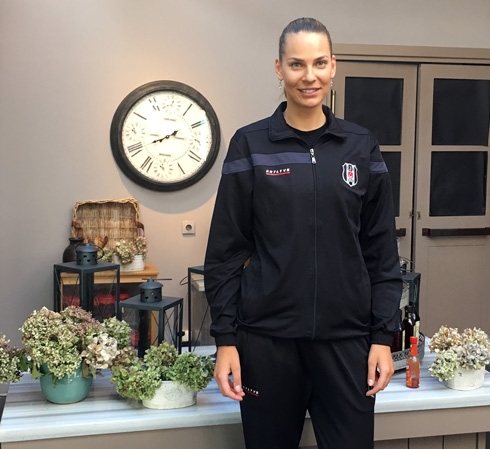 At Volero Zurich, you started to be considered among the top European elite players. Your performance was always above a certain significant level. You received Best Opposite in World Club Championship. What was it throughout the years that brought you such performance and status? And why do you think you peaked at Volero Zurich?
There are always 2 components behind success. There is always a professional organization of the club as well as a lot of immense work done by players and coach. We were working really hard for our goals. I really appreciate all the things Volero Zurich has done in these past 4 years. It is such a professional and high-level organization. We had all conditions there to become better and improve us. My potential is much bigger; however, in my opinion. And I am working very hard to disclose it.
And after Volero Zurich, what was it with Besiktas that brought you back?
I was playing Be┼čikta┼č 6 years ago as you know. First of all, I really had a good impression about the club. Turkish League is also one of the strongest leagues in the world. I thought it would be a good experience for me and when I got an offer from Be┼čikta┼č, I was convinced it was the right choice.
Why didn't you want to keep playing for Volero Zurich?
I only had a 1-year contract with Volero in my first year. After that Volero presented us a 3-year program for Champions League and accordingly offered me a 3-year contract. After this contract came to an end by the end of last season, Volero wanted to go through a change of generation this season with almost completely a new team with young players. This team wouldn't have the ambitions as they did before so there was no reason for me to extend the contract.
"Turkish League is so strong. I don't need to play in Champions League"
Besiktas won't play for any European Cup. As it was default for you for the past few years, do you think it is a disadvantage for you? Or why do you think you accepted the proposal despite the team's absence from the European Cups?
After playing in top club-level international organizations, not playing might even have a positive impact on me. Besides this, I don't think Turkish Championship is weaker than Champions League. When you play in Turkish League, playing in European Cups doesn't have that much of importance as it is already good competition throughout the season.
How do you see Besiktas's prospects this season? You are playing with one of the best rosters Besiktas has had for a long time.
I think even the best rosters need time to become a team. Success of Be┼čikta┼č will depend on how fast we can go through this process.
What is your target this season?
The targets of the team is defined by the club but my personal target is to improve my game and so help the club get the best results.
Do you think Turkish League is strong now? For the past few years, the top 4 has never changed in the league. Do you think is it going to be the same this year or are we going to see more of a challenge from the other teams?
Turkish League is really strong now. And I really hope Be┼čikta┼č will be able to compete against the best clubs in Turkey in the best possible way.
Interview: Murat ├çolako─člu