Kavaz gets used to beach
05 August Wednesday 2009 13:39:20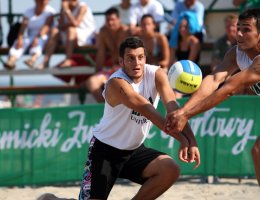 Mustafa Kavaz attends to Hopa Beach Volley tournament as soon as he backs T├╝rkiye from Universities Beach Volley European Championship at Poland.
Kavaz was the beach volley champion of last year's T├╝rkiye championship, battled in Poland with Sabit Karaa─ča├ž. Mustafa-Sabit couple was the 8th in the championship with 2 defeats.
Tu─čba-G├╝lben couple of Trakya University in Women was the 16th in the same championship.
Mustafa challenges in Hopa now with Bar─▒┼č Hamaz, he says they would be the champion in the championship.